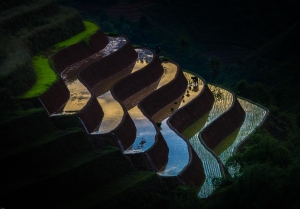 Potential 'working lunch' loophole found for pubs and restaurants
Hospitality executives are awaiting news to confirm if working lunches in English restaurants and pubs are exempt from the latest COVID-19 restrictions. The national trade body, UK hospitality, has announced that they are seeking clarification from the government about the new measures, as the survival of many venues, particularly in London, depends on city workers meeting up with associates over lunch.
England's COVID-19 restrictions
At present, people who live in different households in Tier 2 and Tier 3 areas in England are restricted from meeting in pubs or restaurants, yet the current government guidelines state that meetings are permitted for business purposes. While the current government guidance for UK workers is to work from home if possible and limit social contact, there is some debate surrounding which restrictions are to be prioritised: banning households from mixing or permitting important business meetings.
Concern from the hospitality sector
Kate Nicholls, the chief of UK Hospitality, has described working lunches as a 'grey area' that requires clarification from the government. "This could be a vital revenue stream for some venues at a time when they are trying to operate under extreme restrictions," she continued, "It is not likely to be a magic wand for the sector, though."
Nicholls also pointed out that pubs and restaurants also need guidance about how they should determine whether their patrons are meeting for lunch for a business meeting or whether they are intentionally breaking lockdown rules. Currently, businesses that are open at lunchtime in Tier 3 areas of the UK could be exempt from support from the government, which may impact business revenue as the government continues to encourage workers to work from home. UK Hospitality has criticised the government's lack of communication with the hospitality sector and has called for support for businesses that are struggling.
A spokesman from Number 10 has suggested that the existing working lunch loophole may only be available to freelances or sole traders who do not have business premises available to work in or conduct meetings in and therefore have no other option.
If you're looking for hospitality recruitment services that you can depend on, get in touch with our team at JWR today.
New rules equal new opportunity to make your establishment shine
As the hospitality sector continues it's drive to recover from the Covid-19 pandemic it appears that it is being presented with hurdle after hurdle. It is fair to hail the resilience of the sector; pubs, restaurants and hotels alike all adapted at lightning speed to ensure that they were complying with guidance surrounding social distancing and ensuring the safety of their patrons. Many invested considerable sums into adapting their premises whilst also taking into account, inevitable, lower customer numbers. With the sector showing promise and its adaptability then came, yet more, change and a rather rude awakening.
Enter the new restrictions
At the time of writing it is difficult to provide an overall summary of exactly what these restrictions actually are. With the Prime Minister (PM), Boris Johnson, fumbling his way through explanations of what these cover, perhaps we can all be forgiven for a slight lack of understanding. With certain rules covering England and others across Wales, Scotland and Northern Ireland, not to mention separate local lockdown restrictions, there is an array of guidelines that need to be followed.
At the present time (30th September 2020) the basic rules applying to England, in areas not subjected to local lockdown restrictions, are:
All bars and restaurants to be closed by 10pm.
Table service only within these venues.
All staff to wear face masks.
Customers to where face masks unless they are sat at their designated table.
No groups larger than 6.
Details to be recorded by the venue for Track and Trace. Customers refusing details should not be allowed entry.
Venues must display QR code posters for the NHS Covid-19 app.
Limits to the volume of any music being played.
A time for customer service to shine
With all orders, including drinks without food, being table service only, now is the time for your staff to put their best foot forward and really highlight the quality of your service. Led by a strong management team, your staff have the chance to interact with customers on a new level. No more shouting across a bar and dashing from one customer to the next; your staff now have the time to show your customers that they care in a way that they, perhaps, have never had the opportunity to do before.
A time to build loyalty
Restaurants and, particularly, bars often form the hub of a community. Whether that be a rural setting or in the heart of a bustling city, these hubs are where people come together and return again, again and again.
Customers can not have failed to be subjected to the daily deluge of negativity that seems to spell the end for the hospitality industry. Now is the time, despite the apparent struggles, to show these customers that you care. Enquire about their well-being. Demonstrate that you have every measure in place for their safety. Show them that, despite the current climate, they are your priority. The time will come when there is yet again change, of a positive nature, and these customers will remember how they were treated during these uncharted times.
A time for creativity

Whenever this sector faces adversity, it is the leaders that prove their worth. Now is the time to be reviewing what your venue has to offer and spending time getting creative with offers; perhaps even reworking menus. Now is not the time to simply bumble along and hope for the best. This sector has a diverse workforce and, with effective leadership, it is possible to tap into this diverse skill-set and use it to benefit your business.
The hospitality industry, as history shows us, is one that adapts, survives and then thrives.