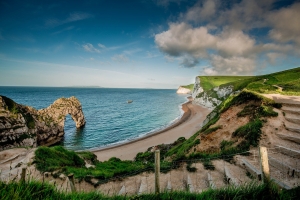 New research outlines ways to stay on top during the Staycation boom
With continuing uncertainty around Covid-19 and how it may continue to affect the British hospitality industry, one thing looks like a fairly safe bet: the "Staycation" is very much here to stay.
Changing attitudes
A new research project, instigated by the Cumberland Building Society and published in the influential industry magazine, Boutique Hotelier, reveals important changes in the attitudes of holiday makers and their intentions about taking their 2021 vacations in the UK.

Unsurprisingly, many people cited concerns about overseas travel, possible unexpected changes in border controls and quarantine requirements, and the possibility of needing serious medical treatment abroad as reasons for their renewed interest in British holiday destinations. To take just one example, over a third of research respondents confirmed that they've already cancelled their usual plans to go to Spain next year, in favour of a "Staycation". The same story is likely to be repeated for Portugal, Italy, Greece, Turkey, the USA and beyond.
Intense competition for the best staff
The research includes details which will be very useful for British HORECA management teams as they plan their approach for next year's holiday season, especially their staffing and hotel recruitment needs. With Covid-19 and Brexit putting the brakes on the normal seasonal influx of catering and other staff from the EU, the competition for the best employees is likely to be even more intense than usual, so it makes sense to lay plans and act on recruitment needs sooner rather than later.
Cornwall and Scotland may lead the popularity charts, but Britain is blessed with such a diversity of destinations and holiday types that there's literally something for everyone - from the slow pace of the Norfolk Broads to the high peaks of Snowdonia and the Lake District.
Investment decisions and marketing approaches
Another important research report, this time from Barclays Bank, gives some excellent and useful insights that should prove valuable to those in the industry who are considering investment decisions, developing their tourist offers and planning their marketing approach for 2021.
As usual, it will be the most innovative destinations, hotels, cottages, restaurants and pubs that take the biggest share of the expected boom in home-grown trade, and those with the best front-line staff and customer services will win those precious 5-star online reviews and boost their repeat business.
The one thing that no-one can predict is the British weather, but all the signs suggest the hospitality trade across the country may well be in for something of a boom in 2021. Will your business be ready when it comes?
Putting resilience on the menu
The hospitality business has been around a long time. The earliest records of 'hotels' charging for overnight accommodation are lost in the mists of time – a 'house of ill repute' in pre-eruption Pompei and hostels in medieval Japan are among the first recorded examples.
During its long history, the industry has faced – and overcome – incredible adversity. Wars, economic recession, extreme weather – and that's just the past hundred years or so. Each time, hotels, restaurants, pubs and cafes have adapted, reinvented and emerged stronger and more resilient.
Overcoming adversity
While it has some unique and unwelcome properties, the current Covid-19 situation can be seen as just another episode in a continuing tale of overcoming adversity.
Even before Covid, the hospitality industry was already busy re-inventing itself to overcome the challenges and fully exploit the opportunities that technology presents. Online booking, driven by customer reviews, constantly rising guest expectations on everything from connectivity to service standards – the HORECA sector has embraced it all and added innovation as 'dish of the day' on its menus.
Innovation as a response
The response to Covid-19 has followed in those footsteps. Faced with constantly changing and often illogical regulations and restrictions, travel bans, an unprecedented collapse in bookings and understandably nervous and confused guests, huge strides have been taken towards providing a safe, reassuring guest experience that meets all regulatory demands.
Reception processes, cleaning regimes, highly visible hand washing, strict mask policies, social distancing and of course, well-trained and understanding staff have all helped to keep the hospitality industry's service ethos alive and well. Room, table and seating plans have been re-organised. Table service has been introduced where it traditionally never existed. Innovative use is being made of smartphone technologies for bookings and ordering.
Staycations offer a silver lining
And while the end of the Covid-19 journey may not yet be clearly in sight, there are signs of spring shoots already appearing – with international holidays hit hard by travel bans, the "Staycation" concept goes from strength to strength, with many UK families re-discovering the enormous variety of delights that Britain and its hospitality industry offers. With a long, tough year behind us, many people desperately need a break.
The industry's highly creative marketing people are already on that case and the extraordinary positivity, resilience and professionalism of the best front-line hospitality staff will once again help them to stand up and be counted, ready for whatever the next challenge that's thrown at them may be.